What are Conjure oils?
Conjure oils are multi-purpose anointing oils, used to manifest specific outcomes.  Every crafter of Conjure oils uses a variety of base oils, herbs, roots, resins, flowers, and other natural substances, to create the perfect oil.  Most conjure oil recipes are passed down from generation to generation.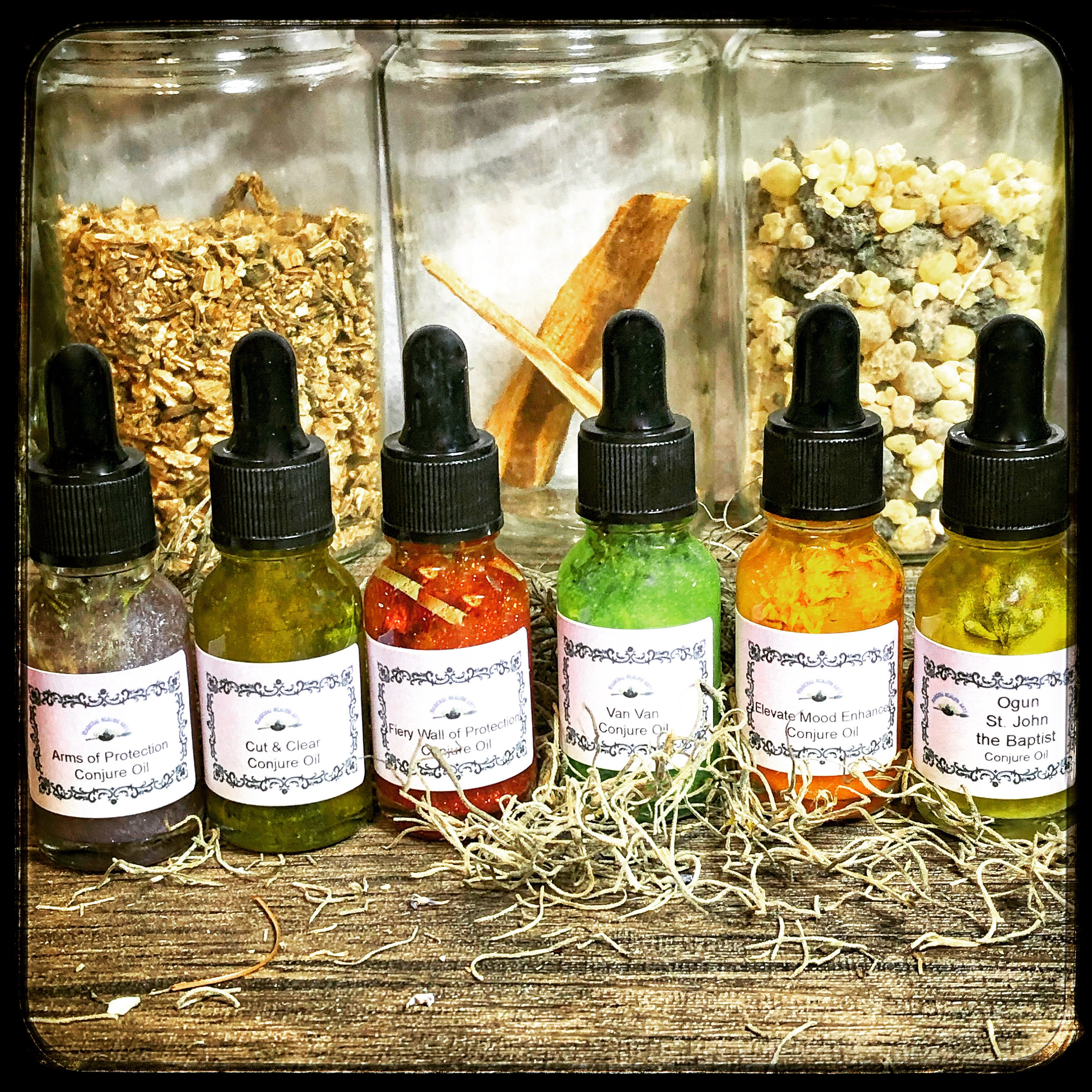 How Magickal Healing Oils Are Crafted
The majority of my Conjure oils have been crafted according to Cajun folk magick recipes from my ancestors, and New Orleans Voodoo recipes taught to me by my mentor.  A few Conjure oils were created by me, according to my years of experience in herbalism and magick.
 I grow, dry and prepare several of the herbs used in my conjure oils.
Each oil is crafted in a "mother" jar, which is used to fill bottles according to order.  Once a "mother" bottle has been created, it is charged with intent, and set out under the light of the full moon.  "Mother" jars are discarded and recreated once they reach expiration dates.
When you order your bottle of conjure oil, it is filled from the "mother" jar, and blessed in a second ritual, to charge it with your specific intent. 
How To Choose Which Conjure Oil Is Right For You
Choosing the right conjure oil is important to manifest what you seek to bring into your life.  I'll give you a description of each conjure oil.  You choose the one that most closely aligns with what you want to manifest.
Archangel Oil- Very powerful oil used to invoke angels to break curses, repel evil energies and entities, and protect wellbeing
Attract Love Oil- Used in attracting love, success and luck. Can also be used to manifest self-love and friendship.
Cut & Clear Oil- Used to remove blockages of all kinds. Most often employed to clear away feelings associated with heartache, addiction and withdrawal.  Can also be used to destroy negative attachments from abuse, evil entities, or bad habits.
Empath Protection Oil- Used most often to protect empaths, mediums, sensitives, and healers from negative, destructive and evil energies, spirits, and entities.  Formulated to repel all negativity, while promoting calm and positivity in the wearer.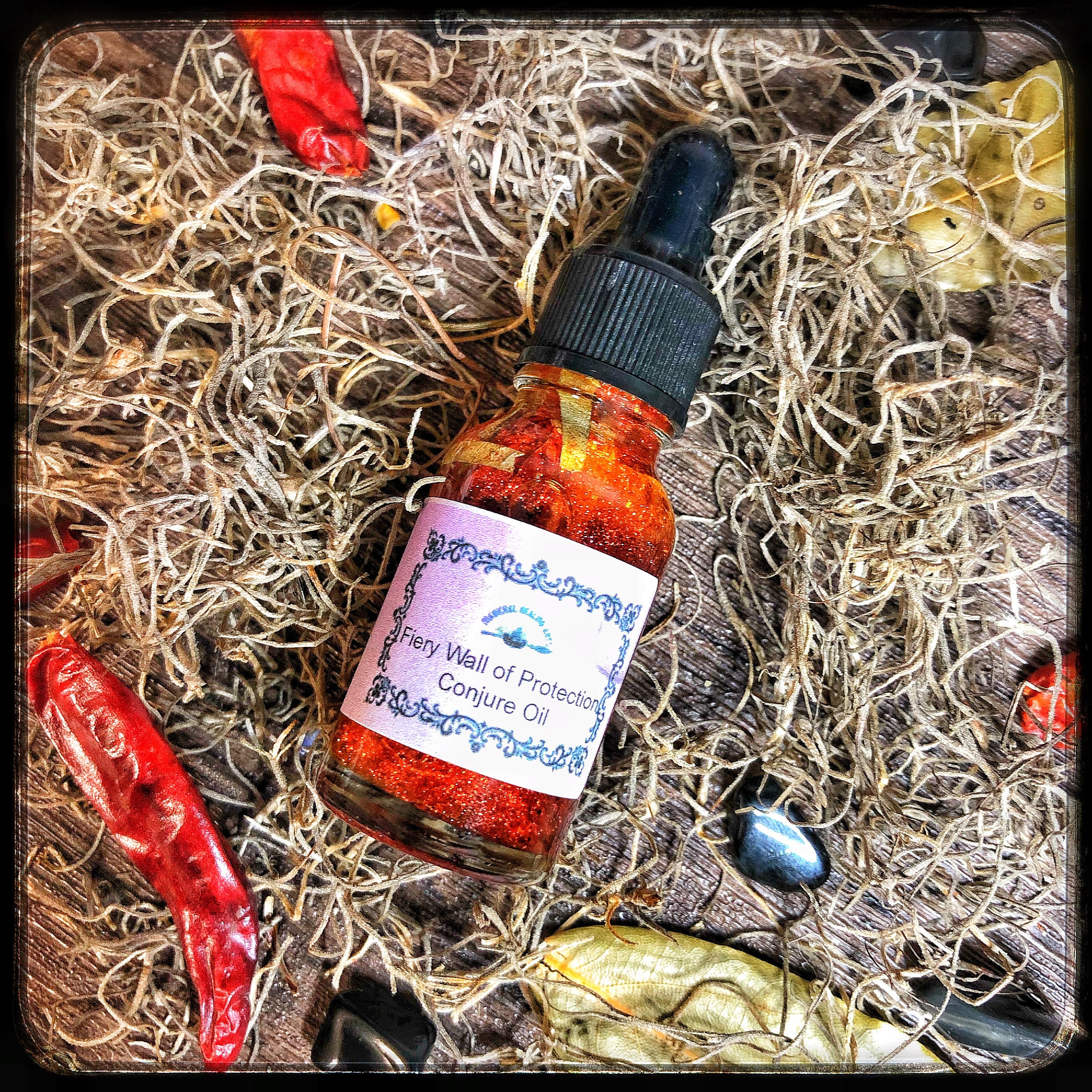 Fiery Wall of Protection Oil- Extremely potent protection oil used to invoke the fiery power of Archangel Michael's flaming sword against one's enemies or negative forces.  It is used as protection against psychic attacks, as well as aiding in health, legal and business issues.  If you feel under attack by any person or entity, this oil is the one you want. 
You should use caution when applying this oil to your skin. Always do a preliminary allergy test when using this oil.  If an allergic reaction does occur, DO NOT apply to your skin again.  Instead, apply the oil to religious medals, amulets, talismans, crystals, or gemstones.  You can then place the item in a small cloth bag, and carry it on your person.  I'll give you more ideas in the How To Use Your Oil section.
New Beginnings Oil- The ultimate oil to elevate your mood, releive stress and melt away anxiety.  I first created this oil for myself to help with panic attacks. If you are embarking on a transition in your life, whether physically or spiritually, this oil will help you put old thinking patterns aside, removing self doubt and criticism. 
Ogun or St. John the Baptist Oil- Potent holy oil that opens roads to possibilities in your life.  It's very effective at returning malicious energies back to their sender.  Because of it's very specific ingredients, it is effective at preventing and protecting you from evil spirit and demonic attacks.
Peaceful Home Oil- Promotes peace and harmony in your home. If you live in a home with volotile, abusive, or negative people, this oil can help to bring about a more positive atmosphere.  Very effective when used in an oil burner, to fill your home with good, loving vibes.
Radiant Health Oil-  Excellent oil for healing from illness, injury, surgery, and chronic conditions. Promotes overall mental and physical health.  I use it daily for pain from arthritis.  It's been a life saver for me.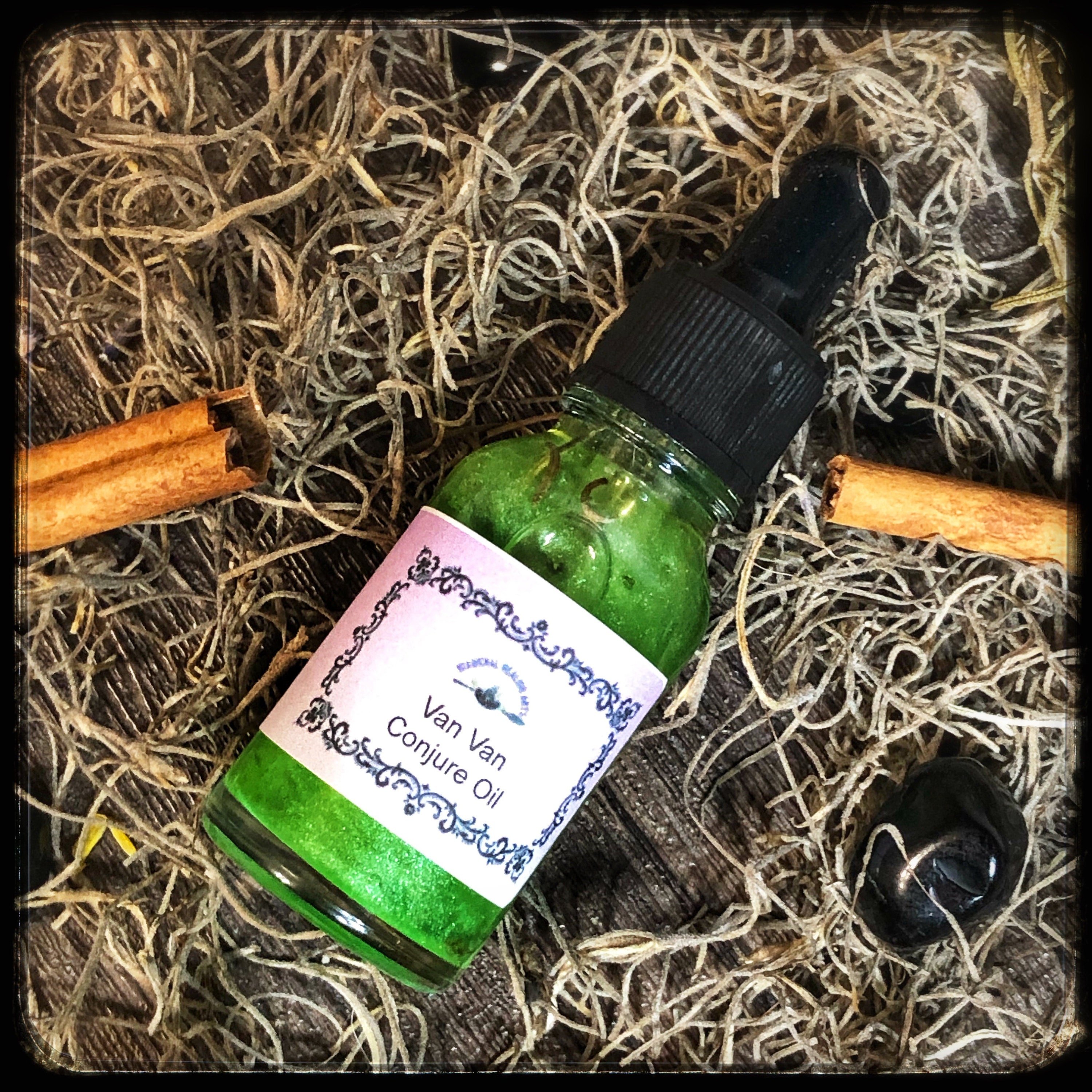 Van Van Oil-  This is a wonderful, all-purpose oil.  It removes negative energy, opens doors to new opportunities, change bad luck to good, and draw all good things to you- luck, love, money, success, happiness, positivity.  If you're looking to add abundance to your life, this is the oil for you.
Well, there's a basic rundown of the Magickal Healing Conjure oils available.  They are available in 1/3 oz. roller bottles, and 1/2 and 1 oz dropper bottle.